(Best Places at U of T to Pull an All-Nighter to Get that Studying Done During the School Year)
by Erica Ly
Chances are, by this point you've already had the experience of pulling an all-nighter. Whether that was the result of playing randomizer with the courses on your timetable during enrollment, and now facing problem sets and assignments due in Statistics, Physics, and Economics on the same day; showing incredible enthusiasm when applying for student groups and currently having an astounding five hours to study for three subjects; or scrolling through Tumblr "for a minute" before starting an essay, and ending up thanking the birds outside for being your reality check at three in the morning – we've all been there.
On the other hand, for those of you who have commendable prioritizing skills and have never gone a day without getting a proper night's rest, feel free to make yourself known in the comments (because that is definitely a prime goal, but basically unheard of amongst us "night owls").
While residence students have the comfort of their dorms, just steps away from morning lectures or exams, you might personally find yourself more concentrated when around others studying just as diligently as you.
For the commuter students (I can relate), spending half of potential work time on the train or bus is not the most ideal situation, either.
So with midterm season here and finals for half-year courses looming before us, University of Toronto students know the importance of finding a good place to study or rejuvenate with a nap – especially if you're planning embrace your inner night owl and getting some late night reviewing (or cramming) done.
Hence, here are the top places at the UofT St. George Campus to pull an all-nighter:
1. Bahen Centre
It's pretty amazing how different it looks during the day compared to night…
Hours: 24 hours a day, 7 days a week with TCard (during term time) / Monday to Friday 8am to 11pm to general public.
Requirements: All U of T students; Engineering or Computer Science Student – TCard (see details below).
As one of the main recommendations from upper year students, Bahen is the main hub for the Faculty of Applied Science and Engineering, the Department of Computer Science, and the Department of Mathematics. This building is always busy with working students even during overnight hours, and honestly, it's quite common to see computer science students tug their sleeping bags with them to make their stay more "comfortable".
Besides the fact that you will not be studying in solitude, the Bahen Centre is definitely a safe choice for your all-nighter as the main doors lock at 11 pm.
If you are a student in any year who is taking at least one course in computer science or engineering, you will be able to use your TCard to tap into the building past 11pm (so you can enter and exit as you please throughout the night).
If you are a non-computer science/engineering student, not to worry! As long as you enter the building before it locks at 11 pm (9 pm is recommended just to be sure that you won't get locked out), you can stay there for as long as you need.
You will also have access to washrooms, computer labs (with TCard), and food from The Cube from 8 am to 8 pm on Mondays to Thursdays, and 8 am to 4 pm on Fridays.
Get more information and read the Bahen Centre FAQ.
2. Robarts Library
Hours: 24 hours a day from Sunday nights to Thursday evenings during the fall and winter terms excluding holidays.
(Regular hours 8:30 am to 11 pm / Extended hours: Open with limited service (i.e. If you need troubleshooting assistance from a staff member, it won't be guaranteed) 11 pm to 8:30 am on first, second and third floors*) *The third floor is closed from 7:30 am to 8:30 am.
Requirements: TCard for stacks during regular hours; TCard to enter or remain in the building during extended hours
When you started your first day at U of T Robarts is probably the first building you'd heard of. The library famous for its peacock versus turkey debate, Robarts is more than just a structure with an ambiguous shape. With an adequately sized food court, computers, and amazing amounts of study space on all 13 floors (unless it's finals…in which case have a back-up plan), it provides a great setting for all types of studiers.
During the day, any UofT student can access the stacks (9th to 13th floors) via the elevators, with a TCard. After regular hours (8:30 am to 11 pm), the first, second, and third floors of the library are kept open 24hrs during the fall and winter terms.
Although every floor has general study carrels, here is the gist of which floors would be the most suitable for your studying needs during the day:
Main floor: commonly used for group discussions or louder conversations with friends while studying.
Quiet zones – 9th to 13th floor: If you need some music and the option to talk quietly with your friends to get your studying done, the quiet floors are a good option. Mostly enforced during regular hours as common courtesy, quiet zones are areas where you can have whispered conversations or listen to music with headphones,. Cellphones must be kept on vibrate.
Silent zones: Located 2nd floor Reading Room; 3rd floor Reading Room; 4th floor computer lab; 9th-13th floors on the Harbord side. If you get distracted when someone is playing their music through their headphones too loudly and need complete peace and quiet to get your studying done – head on over to these study areas, where conversations and cell phones are completely discouraged.
Overnight, Robarts has washrooms, computers in the Information Commons (1st floor), and a food court area with vending machines.
To confirm Robart's extended study hours on the day you plan to pull your all-nighter, click here.
3. New College – D.G. Ivey Library
Hours: 24 hours in April / 9 am to 10 pm on Mondays to Thursdays, 9 am to 5 pm on Fridays, 1 pm to 5 pm on Saturdays, and 1 pm to 9 pm on Sundays
Shameless promotion – our very own New College D.G. Ivey Library is open for overnight studying during the exam month of April.
For those of you living in 45 Willcocks or Wilson residences, this library may be your best option as it is just steps away from your own dorm. The Ivey library has many computers available on both floors, presentation rooms, and study carrels on the bottom floor for more concentrated cramming sessions.
Check Ivey's hours on the day you're planning to visit.
4. E.J. Pratt Library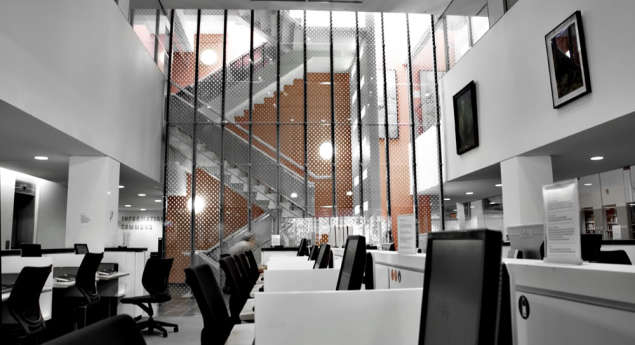 Hours: 24 hours in April / Varying during the school year (check the link below).
Located across from Victoria College, Pratt Library has quite a bit of space for students to study and relax. From natural sunlight if you go during the day, computers right when you enter the door, study carrels and larger tables for group discussions, to sofas and a mini lounge in the basement floor – Pratt is a popular study spot.
For the students who feel that the decorative ambience affects their study mood, it is definitely a more modern aesthetic location compared to older buildings at U of T (not to mention that the couches in the basement are arguably one of the comfiest places to take a nap on campus).
Like Ivey library, Pratt Library will only be opened for your 24-hour studying needs in April, but there's no harm in getting to know the location now and finding your favourite go-to study spot early on in the year.
Check Pratt Library's daily hours.
A long post but remember, I've done the research so you don't have to!
Regardless of if you need the extra study time to go over ECO100 or MAT354 (I've heard about the 8-hours per question problem sets…), feel free to keep this post as a reference if you ever find yourself in a bind for time to study.
If you know of any other 24-hour study spots on or around campus, comment below and help a fellow student in need – after all (although I seriously advise against getting to this point), the most comforting thing to hear when you need to finish a project or study overnight is going to someplace where people are saying, "I haven't started either".