New College Student Receives Arthur Hiller Award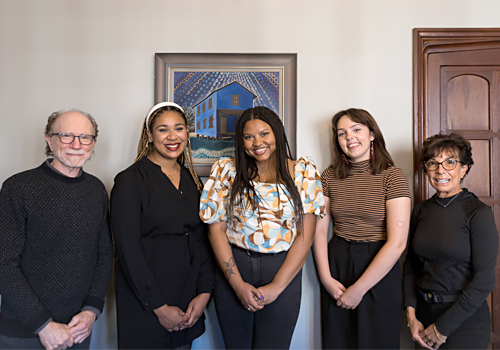 The new Arthur Hiller Award for Admission to the Cinema Studies Institute at Innis College ushers in a welcomed opportunity for Black and Indigenous students to tell the stories that have been silenced for too long, inaugural recipients say.
In late October, Corinne Abouem, Zaria Nelson and Emma Robins met with the Hiller family for lunch, a screening of Hiller's Man of La Mancha — and to thank them for the generous support of more than $3,500 each in funding. Henryk Hiller and Erica Hiller Carpenter established the award in the name of their late father Arthur Hiller, who was a Canadian-American filmmaker, alum and generous supporter of the Cinema Studies Institute. Together, their contributions — along with the original fund begun by their father — amount to a $290,000 endowment.
When Corinne Abouem graduates, she'd like to become a screenwriter. A second-year student at New College, Abouem says she was thrilled to see an award specifically for Black and Indigenous students.
"This is such an honour being the first ones to receive this," Abouem says. "I feel like I can make a change for future students that are Black and Indigenous and create a tighter network for Indigenous and Black students inside the Cinema Studies Institute."