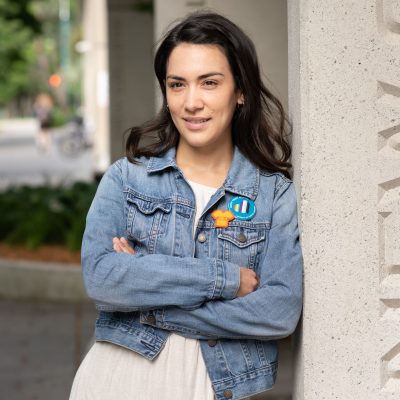 Mikayla Redden
Information Services and Instruction Librarian
Mikayla Redden
Information Services and Instruction Librarian
Biography
I am of Anishinaabe and settler heritage. I call Michi Saagiig Nishnaabeg territory (Treaty 20) home, but currently live and work on Treaty 13, the Tkaronto Purchase. I am a granddaughter, daughter, sister, auntie, helper, and learner. I have the privilege of walking in two worlds; learning from my relations on and off-reserve, both urban and rural, traditional and contemporary, and am able to apply pieces of that knowledge to my professional life, as an academic librarian. I am passionate about Indigenous self governance, data sovereignty, decolonizing information management systems; language revitalization; and amplifying the voices of Black, Indigenous, and People of Colour.
At New College, I serve as the liaison librarian to three academic units: Buddhism, Psychology, and Mental Health; Community Engaged Learning, and Critical Studies in Equity and Solidarity. I am also working to add anti-oppressive language to curriculum documents as a co-chair of the International Foundations Program Joint Curriculum Committee.
At University of Toronto Libraries, I chair the Equity, Diversity, and Inclusion in Collections Initiative Working Group.
At Ontario College and University Library Association (OCULA), I am a Councillor at large and co-coordinate of the EDI Community of Practice. I was an Ontario Library Association (OLA) Super Conference planner in 2021, 2022, and 2023.
Research and Publications
Blog posts
Book chapter
Collaborative documents
In the news