New College alumni are changemakers. They are global leaders, innovators, trailblazers, and passionate activists. And above everything else, they are a connected and supportive community.
When New College was created in 1962, it was created with a purpose. There was a need – for additional residential space and for innovative academic programs – and over 50 years later we house programs in African Studies, Critical Studies in Equity and Solidarity, Caribbean Studies, and Buddhism Psychology & Mental Health. Our students can live in our residences, spend the summer in countries like Namibia to collaborate on international research and training projects, serve as leaders of active and engaged student groups, and receive funding from in-house grants and scholarships.
And they can do this because of you. The work that went into this College spans six decades and over 25,000 alumni, and took more care and dedication than can be conceived. And we are just getting started. There are many ways to get involved with your alma mater, from the sharing a meal with students through Dinner @ New to sharing your experience through the Career Mentorship program. You can join us at Spring Reunion, share your memories and old photographs with the community, or support the College by giving to one of our priority areas.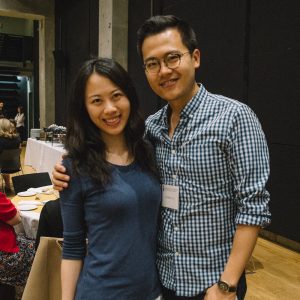 This is an exciting time at New College, but it won't be the same without you!
Get Involved!

Take advantage of alumni services and benefits


Participate in upcoming events


Become a mentor to a New College student


Connect with us on Facebook and LinkedIn


Update your contact information to stay informed on alumni news and events
---
Connect with our Alumni & Advancement Team
To learn more about supporting New College, or to make a gift, please contact the New College Advancement Office:
Catherine Argiropoulos
Associate Director, Advancement
New College, University of Toronto
300 Huron Street, Room 124
Toronto, Ontario M5S 3J6
E: catherine.argiropoulos@utoronto.ca
T: 416.978.0310
Brenda Registe
Alumni Development Officer
New College, University of Toronto
300 Huron Street, Room 118
Toronto, Ontario M5S 3J6
E: alumni.newcollege@utoronto.ca
P: 416-978-8273