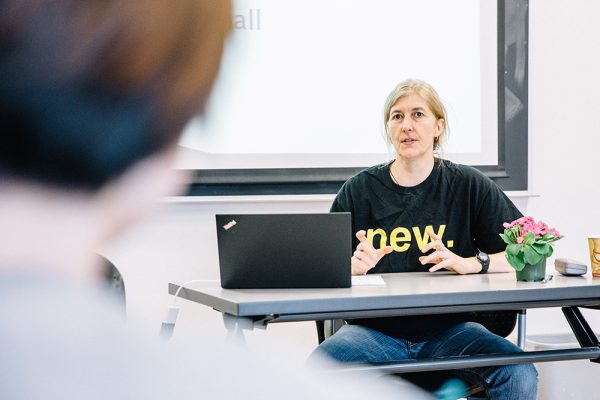 We teach both in person and online. Please remember that appointments still start at 10 minutes after the hour, and please be patient: we sometimes may not be able to connect with you until 15 minutes after.
For all appointments: Please upload the relevant documents ahead of your appointment by clicking "Edit appointment" when you click on your appointment. Our preference is to receive drafts in MS Word with your name in the filename of the document. Please note that we need the assignment instructions in addition to your drafts in order for us to give you effective feedback.
To help make the most of the time, make sure you clearly indicate your key concerns or questions when you book the appointment. All of these appointments rely on having a good internet connection; please be patient if your instructor experiences any internet difficulties.
One-on-one appointment options
In-Person Appointments

These appointments take place in Wilson Hall 2047 and 2019, starting at 15 minutes after the hour to allow for cleaning. Take the stairs from 20 Willcocks or the elevator from 30 Willcocks and find us on the second floor. Please wear a mask and be ready with your UCheck form. Offices are set up so that distancing is possible, so please bring a laptop. In cases of last minute illnesses, these appointments may be transformed to online appointments.
Synchronous Online Appointments

These appointments involve live video conferencing (or you can turn the video off and just have an audio conversation), a shared document workspace where you can interact with the text and your instructor, and a chat window. You can have a conversation with your instructor, write in session, receive written and oral feedback, and re-direct the session toward your questions as they arise. You'll want to hold these appointments on your computer, not on your phone. If you are working on a desktop without a webcam and mic, no problem: leave us a note in the comments letting us know you'd like for us to phone you instead.

Accessing your online appointment is very easy! Just click on your appointment and click on the red text that says "Join online consultation." You may need to give the platform permission to use your camera and microphone. You can always turn these off later by clicking on the icons in the appointment window. If you have any trouble connecting with us through our booking system, see our trouble-shooting guide.
Asynchronous online appointments

If you require an asynchronous appointment for accessibility reasons (e.g., unstable internet, time-zone issues), please email us at newcollege.writingcentre@utoronto.ca to arrange one. This kind of appointment is only for students who have a draft or partial draft of their essay finished. Expect your feedback by about 10 pm on the day that you booked your appointment. Please note that we do not edit your papers.

Learn how to get the most out of asynchronous appointments. To watch the video with audio captions, use this link.
Important Information
Eligibility


The following students are eligible to use our centre:

Students registered at New College
Students taking courses in a New College program, WGS or HMB. (These students must bring work from a course in a New College program.)

If you are not eligible to use the New College Writing Centre, find information about writing support in your home College or Faculty here.
How to make an appointment 

Our booking system is easy to use. Just click on any available appointment time (in white) that you'd like to book. You may reserve one appointment per week. Out of fairness to all students, you may only have three appointments at a time scheduled.

If you have courses at other colleges and can't find an appointment to meet your needs here, you may log out and then click on the link to any other centre in Quercus.

[Embedded video] See a visual on making an appointment. To watch the video with audio captions, use this link.

Making appointments

The login button on our home page will take you to a standard UTOR login page, which will require your UTORid and password. We are a busy site: book well in advance and leave lots of time before your paper is due to apply what you learn in your sessions. Every time you make or cancel an appointment, you will receive an email confirmation. If you are uncertain about your upcoming appointments, you can check them in the booking system.

Communicating with us

The reservation system communicates with you via e-mail or text. The system will send you an e-mail notification of each appointment you book or cancel. It will also send you reminder e-mails and waitlist notifications. You must use your utoronto email address to use our system.

If you wish to receive reminders and waiting list notifications by text rather than email, make sure to update your profile to include your mobile number and carrier. If you want to see us during the day as a drop-in, we'll call you at your mobile phone # as long as you entered it when you registered. You may add it to your profile at any time.

Canceling appointments

Please cancel appointments at least a full twenty-four hours in advance. Timely cancellation makes appointments available to others who are waiting. To cancel an appointment, login to your account on our homepage. Then click on "My appointments" in the Welcome tab to the left.
Important policies
Booking appointments


You may reserve and hold three appointments at a time, but only one per calendar week. In the summer sessions, you may book two appointments per week (for a maximum of 10 over the summer).

If you already have an appointment booked in a particular week, you may be able to drop-in for a second appointment to any time that remains unreserved. Priority for drop-in appointments is given to students who have not yet had an appointment that term or week.)

You may book appointments only for yourself. We will see only the student who has booked the appointment. We will consider the appointment "missed" if the student who booked it does not use it.

If you are more than 15 minutes late for an appointment, we may need to give the appointment to another student who is waiting. Penalties for missed appointments are erased at the beginning of the fall and the summer terms.
Missing appointments and cancelling late

You will be blocked from making appointments if you miss two appointments during the fall/winter or summer term or if you late-cancel three times. Please cancel at least twenty-four hours in advance to give students on the waiting list a chance to book; if you cancel within five hours of your appointment, you will accrue a late-cancellation penalty point.

Please note that if you lose reservation privileges in two or more academic sessions, we may ask you to visit the Writing Centre on a drop-in basis only.
Student card


Please bring your student card to each appointment.
Admissions letters

You may reserve one appointment per academic term in our regular Writing Centre schedule to address graduate and professional schools application materials, such as personal statements. Do not book a second appointment for application materials. If you do, it will be cancelled or counted as missed. For additional help after your one appointment, you may bring these documents to the Writing Room or to a last-minute drop-in appointment booked from the Daily Call list.

We do not look at job application materials (resumes and cover letters) at the Writing Centre. Take a look at the Career Centre for useful advice pages and workshops to help you with the job search.
Practice tests (e.g., MCAT and GRE)

You can reserve one appointment per academic term in our regular Writing Centre schedule to get help developing writing skills for admissions tests. You may also bring this work to drop-in appointments and the Writing Room.
Hard-copies required

In the 2021-22 school year, we will happily work with you online and via our computer screens. Some instructors may prefer to work with hard copies.
Group projects

One or more members of a group may book an appointment to work on a group project. If you are not the author/s of some text that you bring, we will help you develop questions and editorial strategies that you can take back to the group. The person who books the appointment must attend the session and be eligible to book (a New College student or a student from another college working on a group assignment for a New College program course). Group appointments in 2021/22 are online only.
Last minute writing support
If you need help with your writing but didn't manage to book an appointment ahead of time, try one of these options. Most days, some appointments do become available at the last minute.
The waitlist

Use the waiting list if you can't get an appointment when you need one. Once you enter the booking system, WC Online, just click on the waiting list link for any day you'd like to see us. You have the option

of selecting a time range or a specific instructor. The system will notify you by email or text if an appointment becomes available. You may easily delete yourself from any list.

The reservation system notifies all students on the waitlist when an appointment comes available through cancellation. If you enter the booking system and find that there are no appointments on the specified date, this means that the appointment has already been booked by another student.
Drop-in appointments

If you are looking for a last-minute drop-in appointment, put your name on the Drop-in list. The list is erased at the end of each day, so it is always for today only. When an appointment becomes available, we'll phone you, often at the very last minute. When the writing centre is not very busy and we can manage last minute appointments via the waitlist, we close the drop-in list. (This list is currently closed).
The Writing Room

Our drop-in writers' space, The Writing Room, is open one to three afternoons a week. Come meet with a writing instructor or just hang out and write.