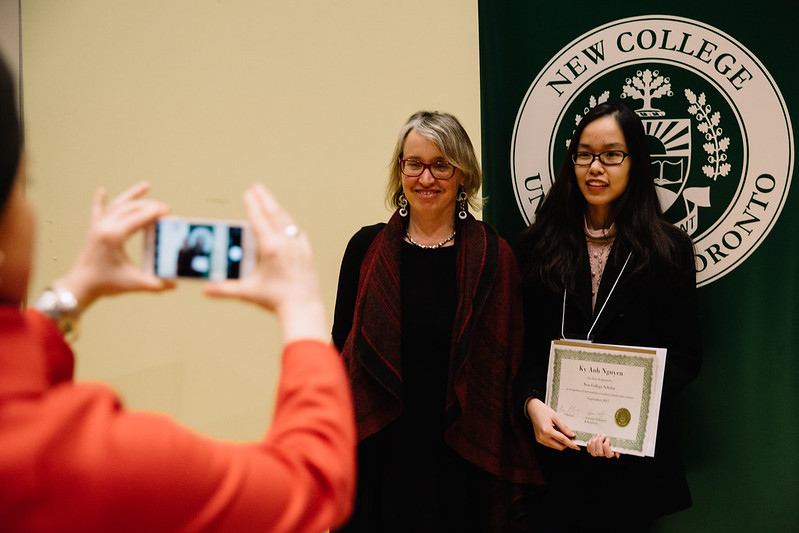 At first glance, the thought of financing a university education might be overwhelming. It need not be. The New College Registrar's Office is here to offer help and assistance.
Our priority is to provide you with the best possible financial service and counselling in support of your educational goals. The Registrar's Office provides confidential advising appointments, emergency assistance, help with financial planning, and information concerning need-based scholarships, bursaries and student loans.
New College has a wide range of financial aid programs to assist with funding your education. Our scholarships, need-based scholarships, and bursaries provide numerous awards to qualified students.
Scholarships and Awards
---
Scholarships, awards, and prizes are provided by New College, the University, and by many other donors and are usually awarded based on academic performance. A full list and descriptions of scholarships and awards offered by New College can be found on the Registrar's Office Quercus page.
U of T has comprehensive scholarship programs that recognizes outstanding achievement at different levels of study. The University, its colleges, faculties and divisions award approximately 5,000 admission scholarships that total nearly $23 million and nearly 5,800 in-course awards each year.
Award Explorer is the University of Toronto's new awards system – a centralized, searchable database from admissions to in-course and graduating awards. It supplements existing resources and aims to make it easier for you to explore awards at U of T.
Awards


Several graduation book prizes, for excellence in specific subject areas, are awarded upon graduation. Recipients are notified in June prior to the New College Convocation Ceremony.

Honour awards, for contribution to student life are made annually to students who have been active in college/university life.
Scholarships

require achievement in other areas such as leadership, artistic endeavors or athletics. Some are awarded on admission to the University, based on secondary school performance, others are awarded in-course, on the basis of university performance.
In-Course Scholarships


New College awards approximately 140 in-course scholarships annually to students who excel in their university academic work. No applications are required. Many outstanding New College students also win awards from the Faculty of Arts and Science and the University. Awards are made in November and are based on academic results from the previous Fall/Winter Session.
Other Sources of Financial Aid
---
There are a wide variety of financial aid sources available to U of T students. Find more information and some FAQs about financial aid here.
OSAP/Student Loans


The Ontario Student Assistance Program (OSAP) is a government financial aid program made up of a mix of grants and loans. Once you apply and qualify for OSAP, you'll be considered automatically for other sources of funding, like University of Toronto Financial Aid (UTAPS). Visit the U of T Financial Aid website for more information and apply for OSAP here.
Grants and Bursaries

Applications for grants or bursaries (need-based awards) are available in the New College Registrar's Office and on ACORN beginning October 1st. All grant applicants are interviewed in person by one of the Registrars. Over 300 New College students receive assistance through University of Toronto Undergraduate Grants, which are awarded to supplement OSAP or other cases of financial need. The College also makes awards from its own grant and bursary funds and emergency loans are available in special cases.

Edmondson-Mason Loan and Bursary Fund
Frank Lay and Pearl Standish Bursary Fund
Hope for Children Foundation Scholarship
New College Principal's Bursary Fund
New College Programs' Bursary Fund
New College Student Council Bursaries
Rea, Robert and Norm Paterson Bursary
Irving and Florence Rother Bursaries
Elizabeth Waddell Bursary Fund

Click here for the 2022-2022 Orientation Subsidy Application Form