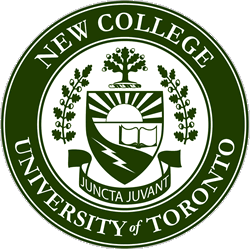 The New College Crest
The Founding of New College
In the fall of 1964, the cornerstone of what would become the permanent home of New College was laid at the corner of Wilcocks and Huron Streets, in the heart of the St. George campus.
New College was founded in 1962, following the approval of a proposal by University of Toronto President Claude Bissell for a new system of residential colleges at the university. He recommended the name New King's College for the new College, in homage to University College, which had been known as King's College before receiving a new royal charter. This ultimately evolved into New College and in June of 1962, the name was formally approved.
In February 1962, Professor F.E. Wetmore, Associate Dean of the Faculty of Arts and Science, was appointed Principal of the future New College. Sadly, he died suddenly in 1963, just four months after the college opened. To honour his memory, the first building of New College was later named after him. In 1963, Donald Ivey was appointed as Principal of New College, and that same year the first class (of 13!) New College graduates receive their degree.
New college was created with a purpose: There was a need at U of T for additional residence space and for innovative academic programs. With a new college, came new horizons: new possibilities for knowledge and meaning, new opportunities for global fluency; new avenues for ethical development.
New College originally accommodated its students in temporary residences at 65 St. George Street (now known as the School of Graduate Studies), until the first permanent building was completed in 1964 — what is now Wetmore Hall. It offered 285 bed residences for males. In 1969, New College's second building, which included a residence for 398 women, was completed and named Wilson Hall, after our first Registrar Stewart Wilson. New College's third building was added at 45 Willcocks Street in 2003.
Under Principal Ivey's leadership, the college increased its enrollment almost tenfold and grew into its own as an academic and socially engaged community. New College was the first undergraduate college to bring students from the professional faculties – including engineering and pharmacy, architecture and music – together with those in the arts sciences and commerce, beginning a conversation between students and faculty of different backgrounds that continues today.
Since opening it's doors, New College as focused on offering students a rigorous interdisciplinary education that is grounded in the principals of equity and social justice. Today the College offers a diverse choice of programs, including African Studies, Caribbean Studies, Critical Studies in Equity and Solidarity, and Buddhism, Psychology and Mental Health. For over half a century, New College has been preparing students for lives of intellectual engagement, service, and accomplishment.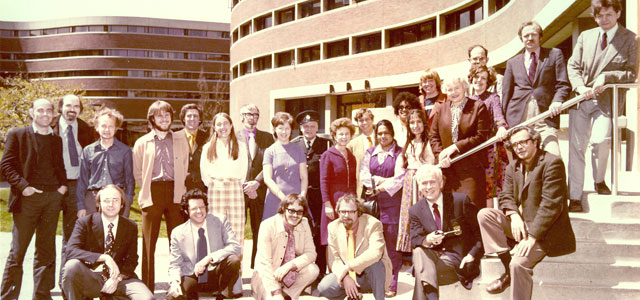 Learn more about New College
---
New College Architecture

New College has some of the most distinctive architecture on campus. Learn more about the history of the three New College buildings here.
New College Timeline

1960
Approval is given to U of T President Claude Bissell's proposal for a new system of residential colleges at the University.


1962
President Bissell recommends the name "New King's College" for the new College, which ultimately evolved into New College.

Frank Wetmore takes the helm as first Principal of New College, with Stuart Wilson as the first Registrar.

New College's first students are welcomed into temporary accommodation in the handsome old house at 65 St. George Street – now known as the School of Graduate Studies.

1963
Donald Ivey is appointed as Principal of New College.

The first class (of 13) New College graduates receive their degree.

1964
The first permanent building of New College is completed, offering 285 bed residences for males. It is named Wetmore Hall.

1965
New College's library (version 1) opens in Wetmore Hall, eventually to be moved to Wilson Hall once construction on the new building was complete.

1969
New College's second building, replete with a residence for 398 women, is completed and named Wilson Hall, after our first Registrar Stewart Wilson.

Audrey Taylor is appointed as first Dean of Women at Wilson Hall.

1971
The New College Writing Facility – later known as the Writing Centre – opens to all New College residents and students.

1974
Launching a formal undergraduate Program, Women's Studies comes to New College.

1978
The African studies program is established.

1983
Biomedical Science Program is launched. The program would be renamed to 'Human Biology' in 1985 and eventually gain independent status under the Directorship of Professor Berry Smith, who moved the program to its new quarters in Wetmore Hall.

1992
The process to make the residence buildings co-ed begins. Wetmore and Wilson Hall Residence Councils are amalgamated into one New College Residence Council.

1995
The Caribbean Studies program is launched as a 3-course minor under the auspices of Professor Arnold Itwaru and colleagues. The program would eventually grow to offer a Major and Specialist degree.

1998
The Equity Studies program is launched, as the first program of its kind in Canada, offering a major comprised of courses from over 25 different departments across the University.

1999
The Institute of Women and Gender Studies is established, thanks largely to the success of the Graduate Collaborative Program in Women's Studies (GCWS) which was created in 1994.

2003
New College opens the doors to its 3rd building- a 280-bed residence with Professor's offices and the William Doo Auditorium. Located at 45 Willcocks Street, the building is affectionately known as 'New College III' and '45 Willcocks.'

2005
The Disability Studies stream is added to the Equity Studies program.

The Women and Gender Studies Institute is created, with authority to create tenure-track academic appointments.

2009
The International Foundation program is launched.

2012
Wetmore Hall Residence becomes 100% co-ed, as demand for the last all-male floors plummets.
New College Mascot


New College students were the first at a U of T college to introduce a mascot. Goliath made his first appearance at NEW in 1979, purchased for $50 by a group of students. Originally resembling a dog, Goliath has since gone through four iterations (and a history of kidnappings), now proudly presenting the spirit of New College as a wildebeest (or gnu).