New College Council (NCC)
The NCC is the governing body of New College. It is responsible for the general direction of the College and presides over administrative, budgetary and academic matters. The Council meets quarterly to discuss College business and priorities. Chaired by Mr. Jeffrey Newman, the Council is composed of approximately 40 faculty, administrators, staff and students.
Click here for agendas and minutes of previous NCC meetings.
Documentation
300 Huron Street, Room 109
New College, University of Toronto
Toronto, ON, Canada, M5S 3J6
Phone Number: 416-978-2461 / Fax Number: 416-978-4345
Email: nc.principal@utoronto.ca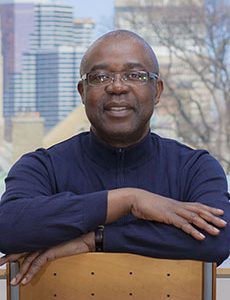 Dickson Eyoh
Interim Principal of New College
Professor Dickson Eyoh was born and raised in Cameroon and educated in United States (Rhodes College in Memphis) and at the University of Toronto (MA in Political Economy) and York University (PhD in Political Science). He is currently Associate Professor of Political Science and African Studies. Before returning to University of Toronto, he was Lecturer in Political Science, University of Jos in Nigeria and Assistant Professor in the Division of Social Science, York University.
Professor Eyoh has held visiting fellowships at the Institute of African Studies at University of Cape Town, African Institute of South Africa, and most recently was Carnegie Visiting Diaspora Scholar at the Institute of African Studies and Department of Political Science, University of Ghana, Legon.
Professor Eyoh's research interests include political economy of development, state-society relations in Africa, identities and politics in Africa, and Africanist discourses on development. He has published widely in journals such as African Studies Review, Development and Change, Canadian Journal of African Studies and Research on African Literatures. He has co-edited Encyclopedia of 20th Century African History (with Paul Zeleza), Ethnicity and Democracy in Africa (with Bruce Berman and Will Kymlicka), and Decentralization and the Politics of Urban Development in West Africa (with Richard Stren).
Professor Eyoh has rich and varied experiences as an academic administrator, including serving for 14 years as director of African Studies (1993-2001, 2011-2017 and 2022), as mentor to students from Africa in the MasterCard Foundation Program (2013-2021) and as Associate Chair for Undergraduate Studies in the Department of Political Science (2017-present).
Past Principals of New College

Bonnie McElhinny 2017 – 2023

Yves Roberge 2010 – 2017 

Shahrzad Mojab (Interim) 2009 – 2010

Rick Halpern 2006 – 2009

David Clandfield 1996 – 2006

Frederick Case 1991 – 1996

Guy Hamel (Interim) 1990 – 1991

Edward Chamberlin 1985 – 1990

Robert Lockhart 1979 – 1985

Andrew Baine – 1974 – 1979

Donald Ivey 1963 – 1974