New College Council (NCC)
The NCC is the governing body of New College. It is responsible for the general direction of the College and presides over administrative, budgetary and academic matters. The Council meets quarterly to discuss College business and priorities. Chaired by Mr. Jeffrey Newman, the Council is composed of approximately 40 faculty, administrators, staff and students.
Click here for agendas and minutes of previous NCC meetings.
Documentation
300 Huron Street, Room 109
New College, University of Toronto
Toronto, ON, Canada, M5S 3J6
Phone Number: 416-978-2461 / Fax Number: 416-978-4345
Email: nc.principal@utoronto.ca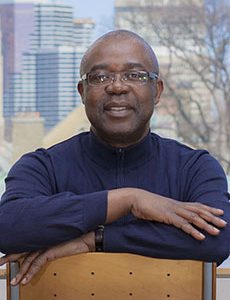 Dickson Eyoh
Acting Principal of New College
Professor Dickson Eyoh was born and raised in Cameroon and educated in United States (Rhodes College in Memphis) and at the University of Toronto (MA in Political Economy) and York University (PhD in Political Science). He is currently Associate Professor of Political Science and African Studies. Before returning to University of Toronto, he was Lecturer in Political Science, University of Jos in Nigeria and Assistant Professor in the Division of Social Science, York University.
Professor Eyoh has held visiting fellowships at the Institute of African Studies at University of Cape Town, African Institute of South Africa, and most recently was Carnegie Visiting Diaspora Scholar at the Institute of African Studies and Department of Political Science, University of Ghana, Legon.
Professor Eyoh's research interests include political economy of development, state-society relations in Africa, identities and politics in Africa, and Africanist discourses on development. He has published widely in journals such as African Studies Review, Development and Change, Canadian Journal of African Studies and Research on African Literatures. He has co-edited Encyclopedia of 20th Century African History (with Paul Zeleza), Ethnicity and Democracy in Africa (with Bruce Berman and Will Kymlicka), and Decentralization and the Politics of Urban Development in West Africa (with Richard Stren).
Professor Eyoh has rich and varied experiences as an academic administrator, including serving for 14 years as director of African Studies (1993-2001, 2011-2017 and 2022), as mentor to students from Africa in the MasterCard Foundation Program (2013-2021) and as Associate Chair for Undergraduate Studies in the Department of Political Science (2017-present).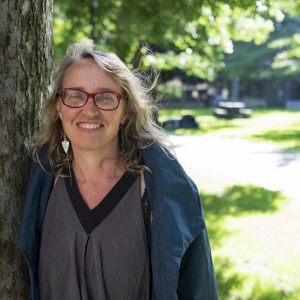 Dr. Bonnie McElhinny
Principal of New College (on leave until July 2023)
Dr. Bonnie McElhinny is Principal of New College, and Professor in Anthropology and at the Women and Gender Studies Institute. She is the former Director of Women and Gender Studies. She currently lives in Toronto, the 9 rivers city, in the watershed of niigaani-gichigami, or chi'nibiish, also known as Lake Ontario.
Dr. McElhinny's books include Words, Worlds and Material Girls, Filipinos in Canada (edited with Roland Coloma, Ethel Tungohan, J.P. Catungal and Lisa Davidson) and, most recently, Language, Capitalism, Colonialism: Toward a Critical History (with Monica Heller). This book was featured at the Society for Linguistic Anthropology's 2022 biennial meetings, in a panel with authors meeting interlocutors.
Dr. McElhinny has also published over 60 articles and chapters, and a range of public intellectual essays. She is the recipient of numerous teaching and research grants.
She regularly teaches courses on unsettling settler colonialism, living on the water in Toronto, and water and social justice. She directs Water Allies at New College (waterallies.com). This initiative focuses on decolonial, feminist, queer and anti-racist approaches to environmental justice, with a focus on water. Its projects include designing and re-designing a cluster of courses on the Great Lakes, research and teaching collaborations with community partners, designing experiential learning opportunities for students, and curating public events which build community and conversations.
Recent contributions to the university and faculty include service on the FAS Working Group on Equity, Diversity and Inclusion; the FAS Committee on Indigeneity, Research and Learning; the Social Procurement Advisory Group; and Council of First Entry Deans.
She is a recipient of the June Larkin Teaching Award, and her first year course, Living on the Water in Toronto, was recognized in 2016 as one of the 14 most innovative teaching initiatives in all faculties, on all 3 campuses, at the University of Toronto, and featured in Re:Think: Navigation and transformation in today's learning landscape.
Past Principals of New College

Yves Roberge 2010 – 2017

Shahrzad Mojab (Interim) 2009 – 2010

Rick Halpern 2006 – 2009

David Clandfield 1996 – 2006

Frederick Case 1991 – 1996

Guy Hamel (Interim) 1990 – 1991

Edward Chamberlin 1985 – 1990

Robert Lockhart 1979 – 1985

Andrew Baine – 1974 – 1979

Donald Ivey 1963 – 1974