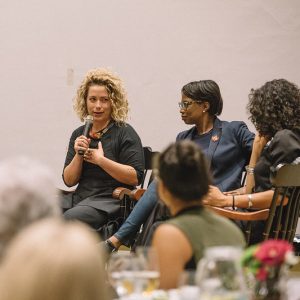 Read about some of the remarkable accomplishments of New College alumni!

Akanksha Shelat, along with her fellow graduate, Alexandra Assouad, develop Mind-Easy, a therapy platform with a focus on equity
"Available to anyone around the world, the Mind-Easy app is an adaptive health platform that uses avatars with human-like characteristics that help guide users through their therapeutic journey," explains Mind-Easy co-founder and CTO Akanksha Shelat, who graduated in 2018 with an honours bachelor of science as a member of New College. "This platform is designed to provide personalized, adaptive care to patients, using a proprietary human taxonomy and artificial intelligence to deliver tailored mental health plans."
A&S alumni Shelat and Alexandra Assouad, along with Ontario Institute for Studies in Education (OISE) PhD candidate Dalia Ahmed, developed and launched Mind-Easy, drawing from their own experiences seeking mental health services as international students.

Christopher Sealy of One Star Alo wins Toronto Sommelier Award
Congratulations to Christopher Sealy of One Star Alo, this year's Toronto Sommelier Award winner! Read about his thoughts on coffee as ritual, cooking with Afro-Caribbean ingredients, and how a wine makes the list.

Nearly 50 years after graduation, David Brace is still fascinated by earth sciences at U of T
Though the University of Toronto represents a brief period in alumnus David Brace's life — and close to 50 years ago, at that — it left a lasting impression on him.
"I left Toronto a few days after I graduated, going to the Arctic, British Columbia, Chile, and only came back here to Toronto about 15 years ago," says Brace, who earned his bachelor of science in geology in 1975.
Read More on Arts & Science News

Ceta Ramkhalawansingh catalogues more than 50-year career of feminist activism: Toronto Star
After five decades in activism, city-building and community planning, University of Toronto alumna Ceta Ramkhalawansingh has amassed an impressive collection of local history – and she is donating some of it to her alma mater. So far, Ramkhalawansingh – who co-founded the first women's studies program at U of T in 1971 and was one of its first lecturers – has shipped off 30 cartons of records to the U of T Archives and 17 boxes of feminist-theory and Caribbean-studies books to the New College library, the Toronto Star reported.
"My big pandemic project has been trying to make that knowledge and information available and not lost," Ramkhalawansingh told the Star.

In a bid to improve access to Bay Street, U of T alumnus creates bursary for underrepresented groups
As he climbed through the ranks of Bay Street accounting firm KPMG, University of Toronto alumnus Robert Davis didn't see many role models who looked like him – so he decided to do something about it. Davis, recently elected chair of KPMG Canada's board, and his life partner recently established the Robert Davis and Joseph Chen Access and Diversity Bursary at U of T's Faculty of Arts & Science. They also created a bequest to ensure their legacy of financial assistance to promising students continues long after they are gone.

Spotting a need on campus, international grad Laura Gallo founded U of T Women's Association
When she arrived at the University of Toronto as an international student from the United States, Laura Gallo quickly spotted a glaring omission among the various groups and associations on campus.
"My friend and I noticed there were a lot of clubs for women in STEM or women in business, and obviously those are very important in their own right, but there wasn't an association for all self-identifying women on campus," says Gallo, who graduated in 2021 from New College with a bachelor of arts degree. "We wanted to create a place all women on our campus could count on, and have conversations about all sorts of different topics."

'Why don't I just write?': Souvankham Thammavongsa on winning the Giller and her time at U of T

Souvankham Thammavongsa, an alumna of the University of Toronto's Faculty of Arts & Science, recently won the 2020 Scotiabank Giller Prize for her book, How To Pronounce Knife. The book was informed by her experiences growing up in Canada, where she arrived at the age of one. Her Laotian parents brought her to Toronto from a refugee camp in Thailand. The collection of short stories is on Time magazine's list of 100 Must-Read Books of 2020 and was named one of the best books of spring 2020 by the New York Times, Salon, the Millions and Vogue.

From space to sustainability: U of T alumnus Julius Lindsay helps physics grads navigate career options
When asked how he developed an interest in physics, New College alumnus Julius Lindsay just laughs.
"I was – am – a big Star Trek and Star Wars nerd," he says, adding that Grade 8 was when his passion took the form of a career aspiration.

From Twitter to TikTok, U of T community comes together online during COVID-19
The marathon study video shared by recent grad New College grad Nasir Kharma, 24, who's now studying medicine in the U.K., plays no music and has no graphics. It simply shows Kharma studying at his desk, and taking the occasional break. Yet it's proven extremely popular. The video received than 130,000 views in the first week alone and more than 1,300 appreciative comments, including this one: "Am I the only one who responds like 'sure thing' whenever he says something like 'I'm going to go make myself some coffee?'"

Co-founder of U of T's women and gender studies program celebrates 50 years of support
When Margaret Atwood tweets about you, it's kind of a big deal.
The iconic author and alumna of the University of Toronto's Faculty of Arts & Science put out the call to support her longtime friend and fellow U of T graduate, Ceta Ramkhalawansingh, who recently created a scholarship to support students in the Women & Gender Studies Institute.
The Ceta Ramkhalawansingh Scholarship will be awarded to one upper-year undergraduate student enrolled in a major or specialist program in women and

'Change agent': U of T alumna helps companies, public sector plug into into energy efficiency
Kady Cowan clearly remembers the guilt she felt secretly stuffing granola bar wrappers in her pocket.
She was hiding them from the late Henry Kock, an avid eco-activist and naturalist who was best known for cultivating trees from seed in Canada. He lived a life practically free of waste and his home had no garbage cans – leading Cowan to become a trash smuggler.