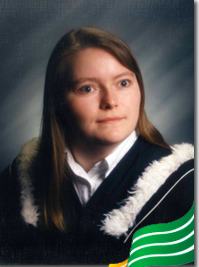 Describe yourself in 50 words or less.
Strong minded, determined, has a "reasonably" good sense of humour. I love sports, big fan of hockey & lacrosse, love dancing, singing, reading, and movies. I am the queen of analogies because I use them to help everyone come to the same understanding. I will roll up my sleeves, or stand on the sidelines and watch my team play, whatever is needed. I love my family, my friends and would do anything for them, including my New College family.
What was New College like when you came?
My very first experience was of course Orientation week, where I met many of the people who would grow to become some of my very best friends, including one who, though I didn't realize it at the time, would become my absolute best friend, my husband.
Although I was very nervous when I arrived on campus, that week went by so fast and in the end I was feeling right at home. That might have had something to do with the fact that I ended up sleeping there, well we hardly slept really!
Having received good advice from my "new" New College friend, I immediately got involved with the NCSC. My New College family grew from there, both with my fellow students and with the administration team who supported me then, and still do to this day. New College will always be another home to me.
What are some of your most memorable moments from your time as President of NCSC?
In my time there, we had some challenges with the newspaper that NCSC had to manage through and unfortunately meant pulling it off the shelf for a while. Not my most pleasant memory while at school and counts as one of those unpleasant experiences from which I, and my counterparts, learned resilience and gained the courage to make decisions even when they were not the most outwardly understood.
At the time I know we all felt it was the right thing to do, but it didn't make me or anyone else on the council feel good about it. I was so happy when a few years later the NCSC was able to resurrect a newspaper that reflected what the college stood for so honestly.
It wasn't until years later when someone approached me at a reunion type event, asking if I was "the one who shut down the paper." It had been a long time since I had thought about it and all those worrisome feelings were back in my mind readying myself for what was coming next. To my surprise, he only wanted to tell me that he had supported the decision and had felt it was the right thing to do, he probably has no idea how much that meant to me, even after so much time had passed.
Tell us about some of the lessons you learned as a student leader. How valuable are these lessons to you today?
Being a student leader taught me so many things that still help me today as a leader in my career. I had to learn to deal with the good and the bad, the easy and the hard, the happy and the sad. I had to learn how to make choices, even when I knew there would be individuals who would be disappointed, you can't please everyone all the time, no matter how hard you try. I had to balance the pressure of the students, with that of the student leaders, and that of the administrative staff, lest we forget balancing the pressure of school itself. I was after all, still just another student trying to figure out what I wanted to do with my life like everyone else.
Something of an unexpected benefit was the opportunity to interact with so many different people, from so many different places and with such different views and opinions. Living and working in one of the most diverse cities in the world, there is no understating how important those lessons are in my world today.
Was there anyone in particular at New College (staff, student or faculty) who had a strong influence on your life or made a lasting impression on you?
So many people influenced me, and supported me, I don't want to miss anyone. As I mentioned earlier so many of my close friends are those I met at New College and who didn't just have an effect on me then, but continue to be a big part of my life. Similarly the staff at New College then and now, have been important to me, if I had to call anyone out though it would have to be the "Ladies in the Registrar's Office," Sally Walker, Ruth Norton and Norma Bliss. They supported me with school, NCSC, and they were strong women who I am proud to have known.
Anything else you'd like to add?
New College, and the people associated with it, have helped shape who I am today, gave me the opportunity to meet the love of my life, and some of my best friends, and for that I will always be grateful. It is why I will always give back whenever and wherever I can.