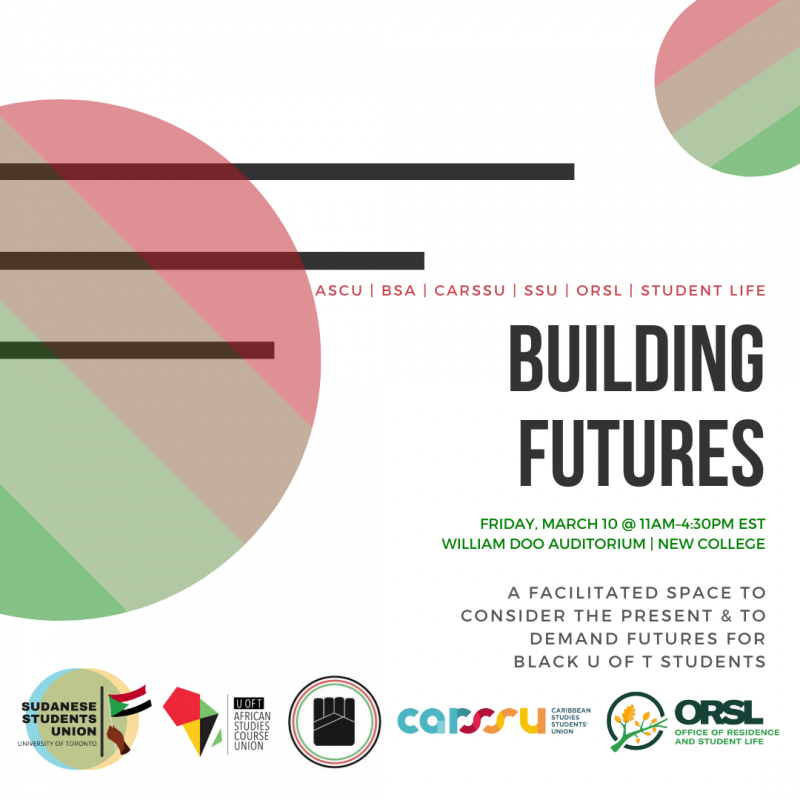 The Office of Residence and Student Life (New College), in direct partnership with the African Studies Course Union, the Black Students' Association, the Caribbean Studies Students' Union, and the Sudanese Students' Union is hosting Building Futures. Building Futures is a day of socials, reflection and networking to consider present conditions and imagine futures for Black students at U of T.⁠
⁠
Students can register for the workshop here

SCHEDULE: ⁠
11AM-11:30AM – Social and Coffee
11:40AM-1:45PM – Intentional Moderated Discussion ⁠
1:45PM-2:15PM – Social and Coffee
2:30PM-4:30PM – Networking with Black Alumni
⁠
The socials will allow students to interact and connect with peers while enjoying delicious treats. During the Intentional Moderated Discussion, student leaders from the student associations and Modele Kuforiji (Student Life Coordinator, Black Student Engagement, with Mentorship & Peer Programs in the Division of Student Life), will facilitate dialogue on three themes: inter-race relations and the experiences of Black students at U of T, intra-race relations, and Black joy. During the Networking with Black Alumni program students will interact with Black Alumni from a variety of backgrounds including research/academia, corporations and more. ⁠
Date: Friday, March 10 ⁠
Time: 11AM to 4:30PM⁠
Location: William Doo Auditorium, 45 Willcocks St
⁠
All students, staff, and faculty at all three campuses are welcome to attend; Black students are invited to participate in the dialogue.
Departments:
Office of Residence and Student Life