Introducing Yadesha Satheaswaran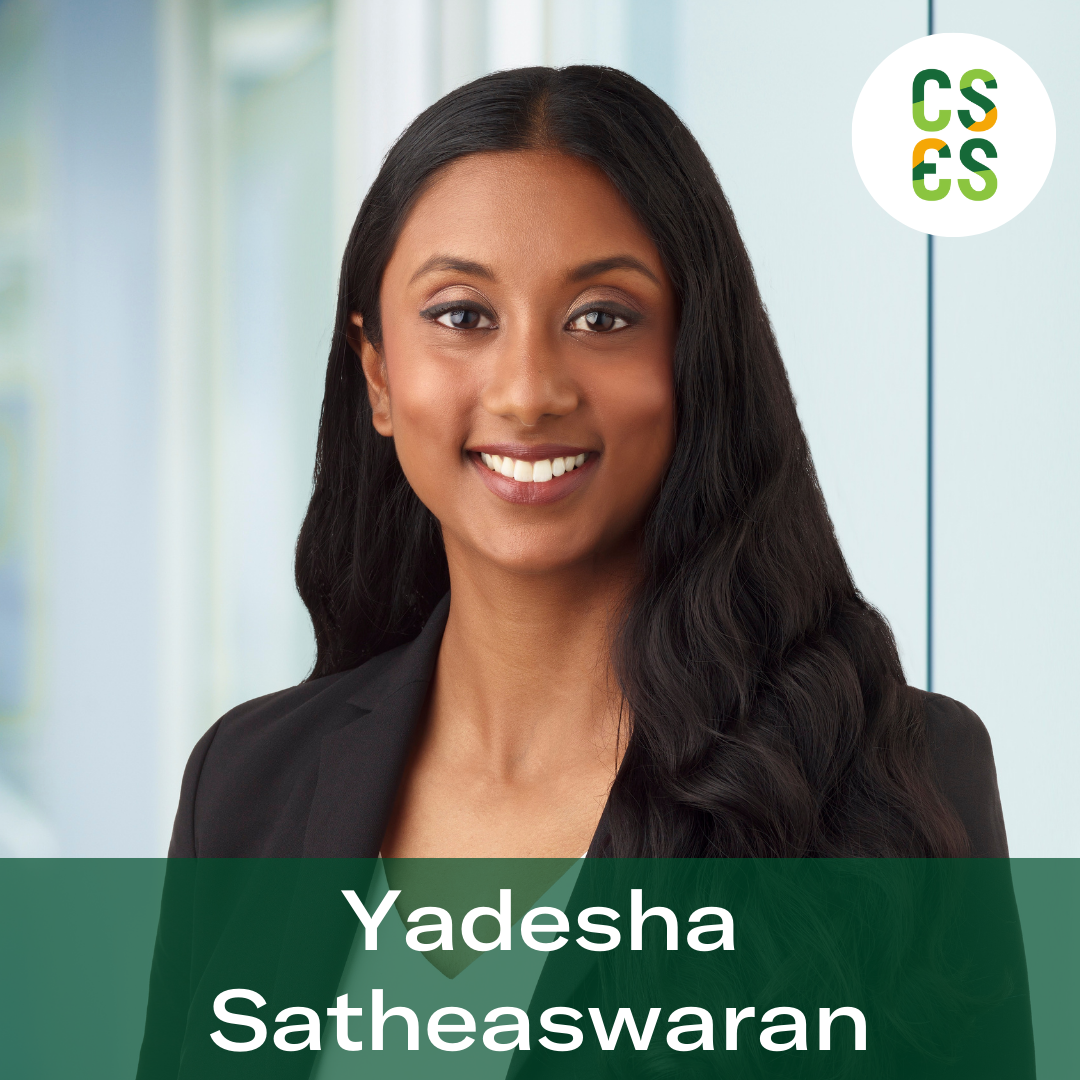 Yadesha Satheaswaran (she/her) is a second-year associate at Stockwoods LLP. She completed her B.A. in Anthropology and Critical Studies in Equity and Solidarity at the University of Toronto and has an M.A. in Anthropology from the same institution. She acquired her J.D. at Osgoode Hall Law School in 2019, after which she completed her articles at a top-tier law firm and clerked at the Court of Appeal for Ontario. Yadesha's practice consists primarily of criminal defense, privacy/defamation law, and administrative law. She remains involved in the community, and her extra-curricular activities focus on issues of social justice and equity. In her free time, Yadesha likes to read, walk her dog, and play board games. Follow Yadesha on Twitter @YadeshaS
Please tell us a bit about yourself (personal, academic background, and current profession)
My name is Yadesha Satheaswaran. I grew up in Scarborough and came to the University of Toronto for my undergraduate studies. Originally, I pursued life sciences, but as I took electives, I discovered a stronger affinity for the social sciences and humanities. This realization prompted me to switch my major to Anthropology and Critical Studies in Equity and Solidarity, establishing it as my double major at UofT. Upon graduating, I found myself uncertain about my future path. Three weeks before the law school deadline, I decided to try my hand at law school. I figured that pursuing a legal education would be a practical way to make a significant impact on people's lives. I completed my law school education at Osgoode Hall between 2016 and 2019. After graduating in 2019, I began my professional journey by articling at a law firm in Toronto. Subsequently, I had the privilege to clerk at the Ontario Court of Appeal. I joined Stockwoods LLP in 2021, where I am currently employed.
What drew you to CSES?
Growing up in Scarborough, I was the child of a single mother who had many life experiences that shaped the way I view the world. During my research into programs in the social sciences and humanities, I was immediately drawn to the course descriptions and work produced by CSES faculty members. I decided to pursue a major in CSES because I knew it would be a good way to deepen my understanding of the world. This program offered me a pathway to delve deeply into subjects such as colonialism, racism, and sexism while equipping me with the necessary vocabulary to articulate my lived experiences. Ultimately, I knew that CSES would make me a much more well-rounded individual regardless of what profession I went into. CSES was a perfect fit for me and I am immensely grateful that I discovered this path.
Tell us about the work that you do. How has CSES/ES influenced your academic, professional, and/or personal journey? What are some accomplishments or achievements that you are most proud of?
As I've mentioned, my decision to pursue law school was rather last-minute. I was initially reluctant to go to law school because I was afraid of being complicit in the colonial structures that have inflicted so much violence on Indigenous communities and other marginalized communities in Canada and abroad. However, during my time as a CSES student, I took a fantastic course taught by George Dei at OISE who told us that, as we work to tear down these big systems of oppression, we can also make change from the inside out. This became the guiding intention behind my decision to attend law school.
When I got to law school I loved my courses, I ended up doing an 8-month stint working at Parkdale Community Legal Services and working in their social assistance and violence division. Currently, I work at Stockwoods LLP which is both a civil and criminal litigation boutique. I often grapple with the positionality I occupy on Bay Street and the privileged position I have. However, I recognize the significance of the litigation work I engage in, particularly with respect to criminal defense. Given the state of our prison system and whether the legal system can indeed provide justice, this work holds tremendous importance. My background in CSES constantly provides me with a framework with which to view the law, apply the law, and understand the law.
In terms of my proudest accomplishments, one that stands out is my contribution to establishing the Osgood Survivor peer support network during my time in law school. This organization provides survivors of violence with a peer support group to navigate the triggering experience of studying criminal law. On a more personal note, I am proud of the Twitter presence I've established for myself. I use my Twitter to be unapologetically who I am and frequently talk about issues of mental health, sexism, and racism which have been well-received by fellow professionals in the field. I continue to utilize Twitter as an accessible medium to engage in conversations that I believe are crucial to the legal profession. Finally, I am also very proud of my experience working at the Court of Appeal where I had the privilege of clerking for the former Chief Justice of Ontario, an advocate for equity, diversity, and mental health in the profession and amongst young lawyers.