1998:  The program for Critical Studies in Equity and Solidarity (CSES) at New College was first established under its original name of Equity Studies (ES). Equity Studies was the first undergraduate degree program in Canada in this field. Over the years, our program has grown from 11 students in 1998 to close to 500 students today, making it one of the largest college programs in the Faculty of Arts & Science (FAS).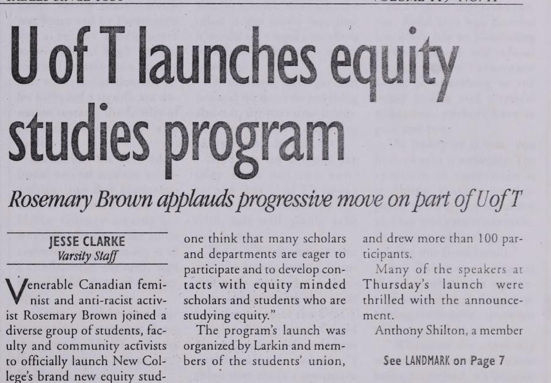 Our program was developed in consultation with an advisory board that was co-lead by Profs. David Clandfield (then NC principal) and June Larkin, who went on to become the program's first director. The board included students and faculty from across the university (including then Transitional Year Program (TYP) director Rona Abramovitch) as well as representatives from community groups (including Rodney Bobiwash, then director of the Native Canadian Centre of Toronto and Anthony Shilton, then director of the Urban Alliance of Race Relations).
1999: Official launch of the Equity Studies program (Mar 4, 1999) with keynote speaker, Rosemary Brown, the first Black woman elected to political office in Canada
2002: Seminar on food-security research methods – a the first ever in Canada – became the catalyst for additional food courses in the program and the larger Global Food Equity initiative at New College.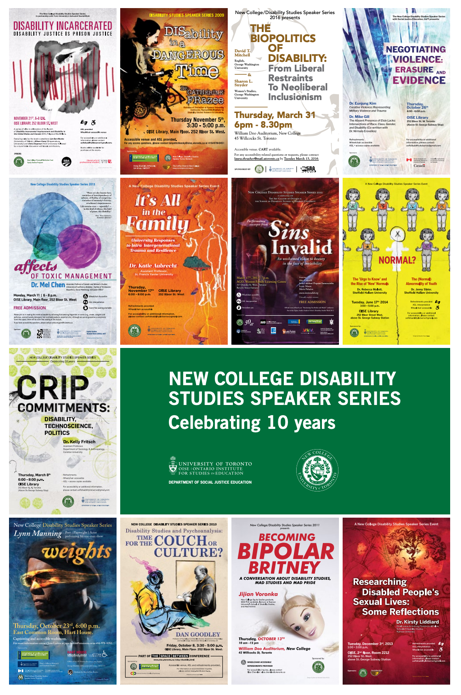 2003:  Convened by Profs. June Larkin (ES), Profs. Tanya Titchkosky (OISE) and Rod Michalko (ES), the newly formed Disability Studies Network bought together a group of students, faculty and staff from across the university interested in promoting the burgeoning field of disability studies. Out of the work of this group, emerged a distinctive suite of undergraduate courses in disability studies focused on disability as an intersectional, cultural, political, aesthetic, and historical social category. Over the years, CSES has become a hub of critical disability studies teaching and scholarship at U of T. The program also houses the Disability Studies Speaker Series and Knots: An Undergraduate Journal of Disability Studies.   
2009-10 & 2011-12 - ESSU is honored with the University of Toronto Students' Union (UTSU) Outstanding Academic Union Award.
2014: The program established our first Critical Studies in Equity and Solidarity scholarship, the David Clandfield Scholarship in Scholarly Activism [insert link to scholarship info – secondary page], which is awarded based on academic achievement, to a student majoring in Critical Studies in Equity and Solidarity entering the fourth year of study who demonstrates the potential to contribute to social justice issues.
2015 the program's minor was established.
2016:  Launch of the inaugural issue of Knots, the first undergraduate journal in disability studies worldwide, edited and compiled by a team of senior CSES students.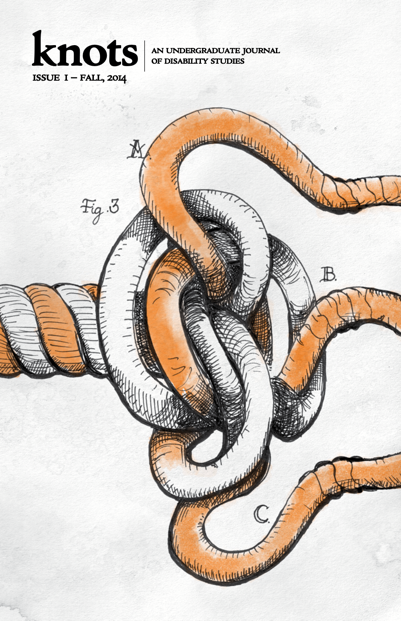 2017: Developed under the leadership of former program directors Profs. Shahrzad Mojab (OISE/CSES) and June Larkin (ES/WGSI), the Youth, Activism & Community (YAC) initiative is an interdisciplinary approach to the study of youth experience and modes of learning, struggle, and resistance in diverse communities across local, diasporic, and transnational sites.
2019: In celebration of the program's 20+ years of socially transformative programming, and under the leadership of program director Shahrzad Mojab, the Equity Studies program became the program for Critical Studies in Equity and Solidarity (CSES). More than a superficial change, our new name is the result of robust conversations and consultations with students, faculty and community partners and represents the program's renewed commitment to thinking critically and complexly about dominant conceptualizations of equity and solidarity as we pursue transformative social change.   
2020: Launch of the inaugural issue of ROVE, an undergraduate journal in Critical Studies in Equity and Solidarity, edited and compiled by the Equity Studies Student Union (ESSU).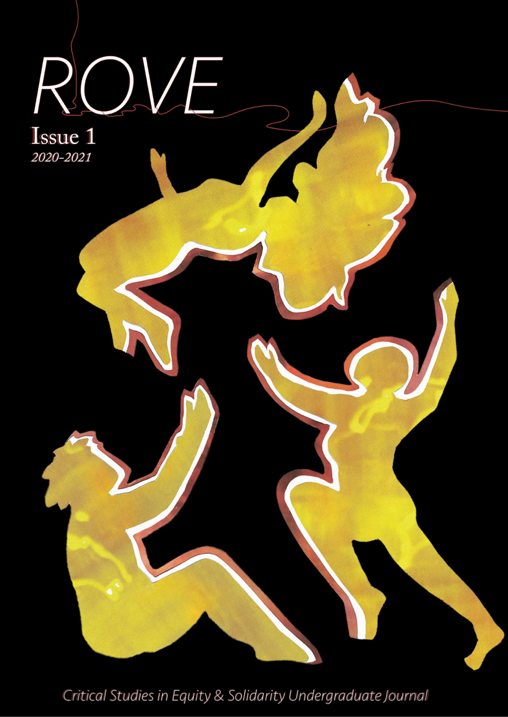 Something missing? Send us your suggestions for this timeline.