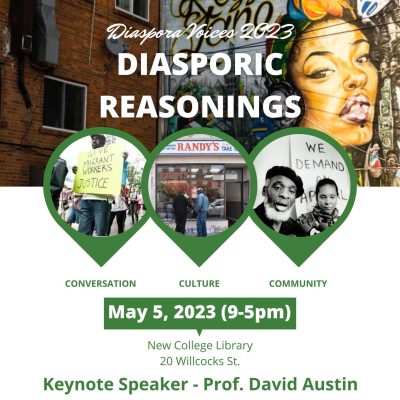 Diasporic Reasonings – Diaspora Voices Conference 2023
Address
D.G. Ivey Library, New College
Dates
Event start date : 05/05/2023
Event end date : 05/05/2023
Event start time : 09:00 AM
Event end time : 05:00 PM
Event Description
The Caribbean Studies annual undergraduate conference, Diaspora Voices will be taking place on Friday May 5
th
 from 9am - 5pm. The theme for this year is Diasporic Reasonings, and we are thrilled that our keynote speaker will be Professor David Austin (3-5pm). Professor Austin specializes in documenting the Black Radical Tradition in Canada, particularly the role of the Caribbean Diaspora. He is the author of a number of books including: 
Dread Poetry and Freedom: Linton Kwesi Johnson and the Unfinished Revolution, Fear of a Black Nation: Race, Sex, and Security in Sixties Montreal
 and editor of 
Moving Against the System: The 1968 Congress of Black Writers and the Making of Global Consciousness
.
We are also thrilled to have the opportunity to host Sarai Rudder and her father, internationally renowned Trinidadian calypsonian David Rudder! For more details check out the attached flyer!
This conference is open to everyone in Caribbean Studies and the wider community, you do not have to be presenting in order to attend. This is a great chance to meet your fellow classmates, Caribbean Studies (and affiliated) faculty, and build connections and community to take into the next academic year and beyond.
Given that we will be having a catered lunch (from Caribbean Studies own alumni Lotoya Haynes @ Kitchen King) as well as refreshments, we are asking for all who will be attending to please confirm by clicking on this
registration link
. We will have vegetarian options available during lunch.