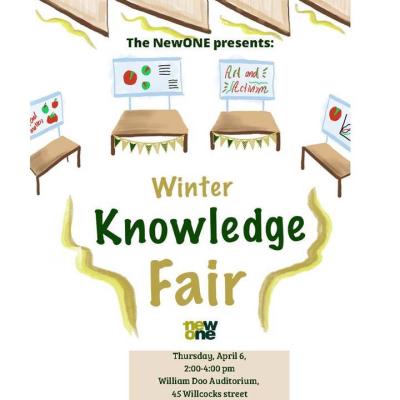 NewONE Winter Knowledge Fair + Food Drive
Address
William Doo Auditorium
Dates
Event start date : 04/06/2023
Event end date : 04/06/2023
Event start time : 02:00 PM
Event end time : 04:00 PM
Event Description
The event will feature posters, games, activities and multimedia presentations produced by students in our program. There will be some snacks. Come to support and celebrate our students and learn about food, ethics and sustainability; language, freedom, and power; art for social change; technologies, infrastructures and the environment;  and science, climate change, and health.
This year, the Knowledge Fair will feature a special Food Drive initiated by one of our students, Lorien Ramos Simoes de Paiva
Do you have unspent meal plan money?
Do you have any perishable food you wish to donate?
Please, bring it to the Knowledge Fair on April 6, 2:00-4:00 pm
All proceeds will go to the
FCJ Refugee Centre
.