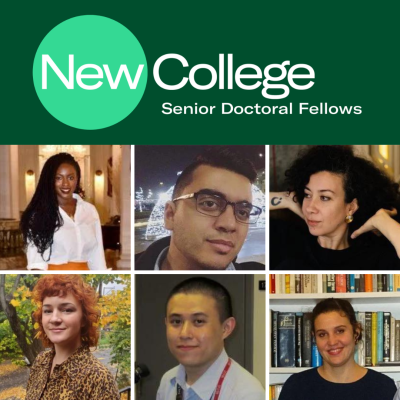 Senior Doctoral Fellow Speaker Series: Hazal Halavut & Hannah Quinn
Address
Virtual via Zoom. Register to receive the Zoom link.
Dates
Event start date : 04/19/2023
Event end date : 04/19/2023
Event start time : 01:30 PM
Event end time : 03:00 PM
Event Description
The Senior Doctoral Fellow Speaker Series is back! Join us to hear about each of these New community member's research.
All sessions will take place virtually from 1:30-3:00 pm. Registrants will receive a Zoom link shortly after registering.
Learn about the rest of the Senior Doctoral Fellow Speaker Series.
Hazal Halavut, Critical Studies in Equity and Solidarity:
"Archives of Absence: Tracing Collective Loss After Colonial Erasure"
Archives of Absence analyzes how invisible residues of violence, echoes of repressed memory, the trauma that returns, that which resists dying and more come together and form an extraordinary repository when collective loss is historically erased, politically denied and collectively repressed. Delving into the archives of absence left behind the Armenian Genocide in modern Turkey, Hazal Halavut traces how loss inhabits space and temporality exploring mechanisms of complicity and colonial unknowing as well as the epistemologies of absence against the epistemic violence of the colonial nation state project.
Hannah Quinn, Critical Studies in Equity and Solidarity:
"Cultures of coercion and cultures of consent: intimacy, sexuality, and presumptions of (in)capacity in the lives of intellectually disabled adults" A presentation based on 13 months of ethnographic research at a disability services day centre in Montreal, Quebec."
The sexuality of intellectually disabled people is frequently discussed in terms of violence and vulnerability rather than in terms of pleasure and possibility. Intellectually disabled people are often framed as either nonsexual or hypersexual, and in both cases, they are deemed to be "like children, incapable of forming substantive life preferences, learning the skills necessary to negotiate sexual choices, or making meaningful decisions in general" (Wilkerson 2011, 204). While sexual consent models purport to bolster sexual agency and reduce instances of violence, their reliance on notions of capacity, competence, and autonomy means that intellectually disabled people are often perceived as unable to consent and are prevented from exploring their sexuality. The result is the regulation of sexual behaviour. The regulation of sexuality also serves to regulate other spheres of intimate life such as friendship, parenthood, and cohabitation. In this talk, Hannah Quinn presents preliminary findings based on 12 months of ethnographic fieldwork conducted in Montreal, Quebec with adults labelled as intellectually disabled at a day centre that provides social skills training and vocational education to the anglohphone disability community. Quinn explores the way that normative consent culture relies on ableist and sanist framings of 'capacity' that shapes the way the sexuality—and everyday decision making—of intellectually disabled people is surveilled and restricted. The result is an culture of coercion for those whose capacity is routinely challenged, assessed, and denied--formally and infromally. Quinn and her participants ask: what might an anti-ableist consent culture look like, feel like? Through what everyday actions, gestures, and relations are intellectually disabled people demanding and modelling anti-abelist consent cultutres based in their experiences of coercion and access needs?