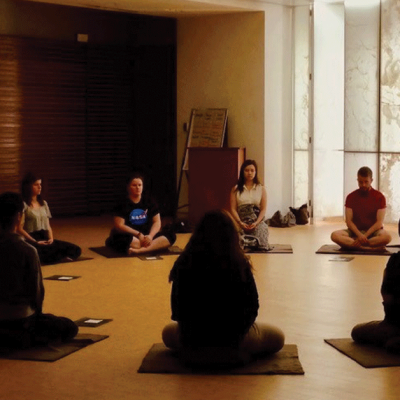 Wake Up Toronto – Mindfulness Practice Session: in-person
Address
569 Spadina Avenue, Main Activity Hall, 2nd Floor
Dates
Event start date : 11/27/2023
Event end date : 11/27/2023
Event start time : 08:00 PM
Event end time : 09:30 PM
Event Description
Wake Up Toronto
is a mindfulness group that practices in the tradition of Engaged Mindfulness, founded by internationally recognized scholar, peace activist and Zen Master Thich Nhat Hanh. We are a branch of the international Wake Up initiative which fosters inclusive spaces for developing compassionate communities.
The Wake Up initiative is for young adults in their 20s and 30s-ish.
Open to students, faculty, staff and the general public. The skillsets and aims of our practice group align with several of the recommendations made by the University of Toronto's Mental Health Task force.
Speakers/facilitators for these sessions are comprised of students, faculty and community members trained in the mindfulness tradition of Thich Nhat Hanh and Plum Village.
New and long-term meditators welcome! Each week we explore different topics, try out a variety of practices and have time for discussion and community connection.
Join us for Wake Up Toronto on
Monday, November 27 from 8 - 9:30 p.m.
for an in-person
Mindfulness Practice Session.
Location:
569 Spadina Avenue, 2nd floor, Main Activity Hall
Registration is not required. 
~~~~~~~~~~~~~~~~~~~~~~~~~~~~~~~~~~~~~~~~~~~~~~~~~~~~~~~~~~
Upcoming in-person Mindfulness Practice Sessions: 
Monday, November 27, 2023, 8 - 9:30 p.m.
Monday, December 18, 2023, 8 - 9:30 p.m.