Experiential Learning in Belize Discusses Indigeneity, Food Justice, and Sustainability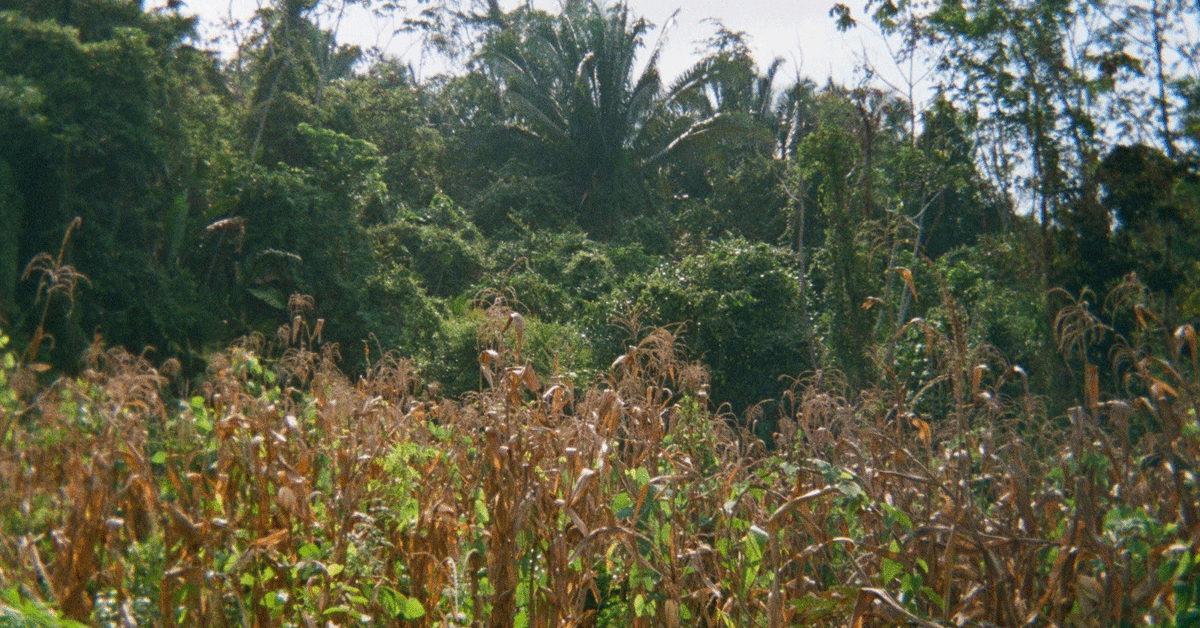 Wheat ready to be harvested in Belize – photo by Calista Barber, Indigeneity, Sustainability and Food Experiential Learning Program Experiential Learning Program student
For Calista Barber, a member of New College at the University of Toronto, her work with the Hart House Farm Committee cultivated her interest in food security and sustainability. Currently working towards a major in Critical Studies in Equity and Solidarity (CSES) and a double minor in Psychology and Buddhism, Psychology and Mental Health (BPMH), Barber's curiosity to learn more expanded beyond North America and led her to apply to the Indigeneity, Sustainability and Food Experiential Learning Program in collaboration with the Centre for Learning Abroad (CELA), Belize.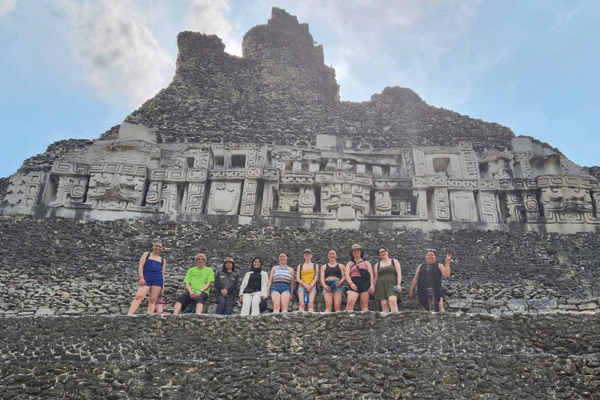 "[The program] sounded like such an impactful and exciting opportunity. I have found such importance and value in community-based learning, so I was very excited to see how we were going to be learning [different food- and sustainability-related] issues and topics from the communities who are deeply impacted and who have experienced them," Barber shares.
Marissa Adamou, a fourth-year CSES student from University College, was also inspired to apply to the program due to her interest in food security and its impact on the community.
"I took a course on food security in my second year and discovered an area of study I am very passionate about. I'm fascinated by the transformation the food system has taken over the past 150 years, especially as it relates to the decline in food and agricultural self-sufficiency. I've never considered the global applications of that transformation, so visiting Belize to learn about the local food landscape seemed like a perfect chance to better understand those consequences," Adamou explains.
Barber and Adamou were part of a small group of students who travelled abroad to Belize this past spring to participate in the experiential learning program that focused on the links between food, sustainability and Indigeneity.
The Indigeneity, Sustainability and Food Experiential Learning Program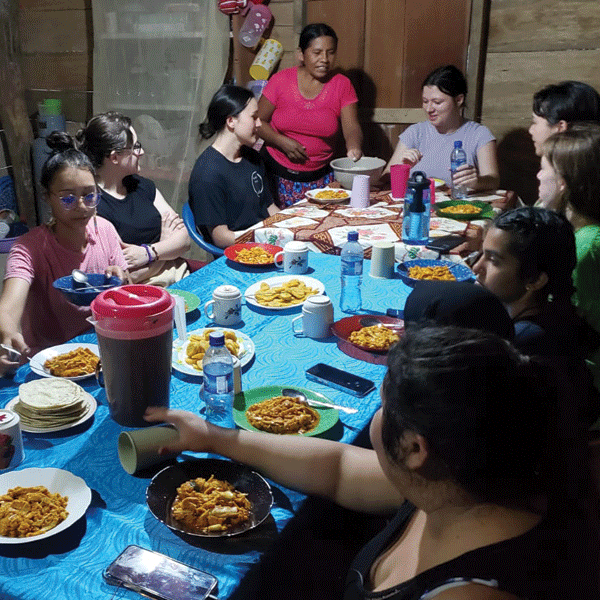 The Indigeneity, Sustainability and Food Experiential Learning Program is a multi-disciplinary, eight-day experiential learning program that provides select students with the opportunity to engage with Indigenous farmers, activists and scholars as they visit field sites and organizations related to indigenous food policies and practices in Belize.

This program started in 2013, built on a relationship between Dr. Filiberto Penados of Galen University in Belize and Professor Richard Lee, University Professor Emeritus of Anthropology and then-instructor in African Studies. Professor Lee, who had taught courses at Galen University, proposed Belize as the ideal place to develop student international experience opportunities. Dr. Penados then came to New College as a visiting scholar to further discuss the possibilities. Through his association with the Centre for Learning Abroad (CELA), he worked with New College to establish a program that he could lead in collaboration with a U of T faculty member.
10 years later, despite a three-year COVID break, the Belize initiative is still going strong. "Over 70 students have participated in the program, an experience they typically describe as transformative. Many have gone on to graduate studies, careers, or volunteer work in the field of food justice," shares June Larkin, former Vice-Principal of New College and current coordinator of the Belize Experiential Learning Program.
Usually taking place in May, students from five participating units – Caribbean Studies, Critical Studies in Equity and Solidarity and Human Biology, along with Indigenous Studies and the First Nations House – are eligible to apply and are selected based on their relevant course work, demonstrated interest and experience in food-related issues.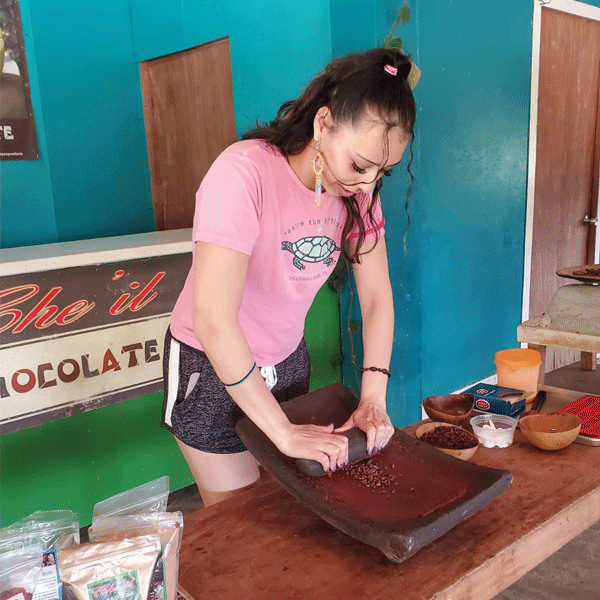 Throughout the week, students visit three Indigenous communities in Belize: Succotz, a village of Yucatec Maya ancestry just a few miles from the Guatemala border; Hopkins, a Garifuna village in the heart of a growing tourism industry; and Laguna, a Q'eqchi village in Toledo and a part of the Maya land rights movement. In each village, students participate in various programming activities, such as talks, field visits, conversations and sharing meals while interacting with the local community, including Indigenous community bearers, locals, and frontline Indigenous leaders and activists. Students receive a resource package to complement their activities and at the end of each day are asked to reflect on their reading and experiences with the group.

Through their work and interactions, students gain an increased knowledge of Indigenous food ways in the context of local and global factors; the history, culture, and contemporary reality of indigenous peoples in the Caribbean, with a focus on Belize; and Indigenous resurgence and its implications for food security, sustainability and decolonial action, with the hope that this knowledge will be incorporated into their academic studies, future careers, community and civic activities.
Impact of Experiential Learning Programs
For participating students, the impact of experiential learning programs such as the Indigeneity, Sustainability, and Food Experiential Learning Program in Belize is incomparable and an exceptional addition to the theoretical confines of the classroom.
For fourth-year student Emma Gaffney-Ladd, a member of St. Michael's College, her time in Belize was more than observation and referencing what she's learned in her classes, but also a time for immersion and reflection.
"I was able to reflect a lot while on the trip. [Being] In the field is extremely valuable. Not only does it allow students to learn about issues, culture, and food in a real environment and be hands-on, but also be completely immersed in an experience [without any] outside distractions. The ability to engage in this type of learning provides an experience that is irreplaceable."

Emma Gaffney-Ladd, 2023 Participant, 4th year, Political Science with double major in Indigenous Studies and CSES; St. Michael's College
Anahita Victoria Star Feredounnia-Meawasige, a fourth-year student at Woodsworth College, shares that her experience in Belize currently inspires her work with Indigenous communities in Toronto.
"This [experience] truly inspired me to connect with the [Indigenous] youth more and have them involved with more cultural activities and opportunities. It helped me connect my already existing thoughts on Indigenous communities' cultural perspectives and experiences. This opportunity also allowed me to dig deeper into my academic thoughts and research and connect agricultural practices through understanding food sustainability in Indigenous communities across Turtle islands."

Anahita Victoria Star Feredounnia-Meawasige, 2023 Participant, 4th year, Indigenous and Environmental Studies and Environmental Ethics, Woodsworth College
"Experiential learning provides opportunities for students to deepen their academic learning through engagement in activities outside the university classroom," Larkin reflects. "Importantly, students also reflect on and gain insight into the interests, perspectives and values that shape their way of viewing the world. Hopefully, more students will have the opportunity to benefit from the deep and engaged learning of the Belize experiential learning program in the years to come."
The Indigeneity, Food Justice, and Sustainability Experiential Learning Program in Belize is funded by New College and the Faculty of Arts & Science.