NEW Mentorship program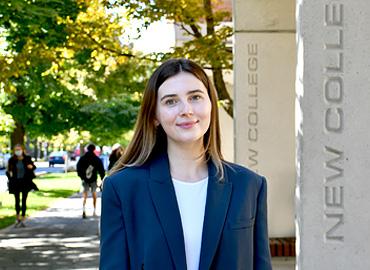 One of the most challenging aspects of Anna Ivanova's undergraduate experience was figuring out what to do after graduation.
Ivanova, who recently graduated with an honours bachelor of arts in international relations and economics with a minor in Spanish as a member of New College, recalls the overwhelming number of options open to her.
"There were many paths to consider: I could pursue a master's and eventually a PhD, apply to business school or enter the job market. Even then, there are so many different industries and roles I could explore," explains Ivanova.
She needed guidance — and she found it through New College's Career Mentorship Program. Thanks to her very engaged and supportive mentor, she has landed an exciting role at a financial services group and found clarity on where she might want to take her career.
Read more about Anna's mentorship experience on Arts & Science News.