Using mentorship, outreach and research to empower others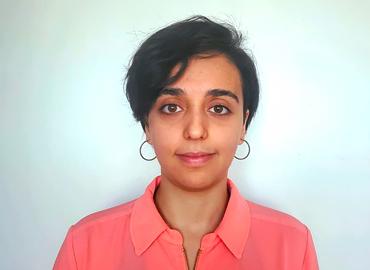 When she first arrived at U of T, Aghia Mokhber says she was "a bit shy." She was still adjusting to life in Canada, having arrived from Iran with her twin brother when she was 17 years old in 2018.
But those first days are long behind her. Mokhber is graduating with an honours bachelor of science in the health and disease specialist program as a member of New College, and just received word that she has been accepted to medical school at Queen's University next fall.
"I was the first person in my family to go to university in Canada," she says. "I didn't know anyone, so that wasn't easy."
Thinking she could use a little support, she reluctantly signed up for a mentorship program. "As a mentee in my first year, I was hesitant," she says. "I thought, 'I don't know, I'm shy and I don't want to talk to anyone.'"
But she was encouraged by a friend in the same program to get involved. "So I applied the day before the deadline, and I got matched with an amazing third-year student who ended up going into medicine as well.
"I had such a positive experience. He helped me with a lot of opportunities and reminded me of deadlines for applying for research opportunities. And I thought, 'I want to do the same thing for other students.' I found I really enjoyed talking to other people and giving them advice."
That's an understatement.
Read more about Aghia's journey and what's next for her in the full story by A&S News.