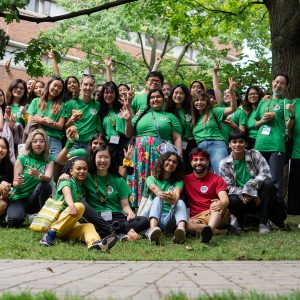 When you apply to the Faculty of Arts & Science, you will also be asked to select one of seven colleges to join. Whether you're a commuter or living in residence, you can join New College and benefit from our community, support services, and programs.
What is the College System?
---
Every Arts & Science student on the St. George campus belongs to a college – a friendly and supportive community of students and scholars within the Faculty of Arts & Science. The college system dates back to the University's earliest days and is at the heart of the Arts & Science experience. Whether you live in residence or commute to campus, you will have access to the many services provided by your college.
Each college has a unique history and culture. Many colleges also host academic programs, however, these programs are available to all A & S students regardless of their college affiliation.
Why Choose New College?
---
We're glad you asked!
New College is one of the youngest and most vibrant colleges at U of T. It is also the largest and boasts the highest number of international students of any college.
New College was founded in 1962 and was the first college to fully integrate residences within our college buildings. Our focus today remains on building and supporting our community, both within the college and outside it. At New College , we make sure every student is given every opportunity for success. We place a high priority on supporting students in both academics and in their personal lives.
Most New College students are enrolled in the Faculty of Arts and Science, proceeding toward an Honours Bachelor of Arts, Science or Commerce degree. The College Residence community brings together Arts and Science students with members from the professional faculties, such as Engineering, Kinesiology and Physical Education and Music.

Building connections between social justice, experiential learning, and community activism
New College is committed to re-imagining the undergraduate experience through socially engaged learning. Home to 6,800+ students, including 800 in residence, the College strives to foster a rich learning environment and advance the connection between scholarship, experiential learning, and community activism. We view our role as an incubator of innovative curricula, a leader in addressing anti-Black and anti-Indigenous racism on campus, and a driver of community engagement that enhances the student experience.
Student life aimed at nurturing success academically and personally

Student life is at the heart of the New College experience. The College offers students extracurricular and co-curricular programming, experiential learning, community engagement and leadership development, all of which support students' academic and personal success. As a student at New College, you will have opportunities to take part in many enriching activities, such as our Let's Talk Days, SPROUT mentorship meet-ups, professional development opportunities and social experiences. You also may want to get involved in the New College Student Council, the New College Residence Council, or one of the many clubs and groups housed at New College.
A community dedicated to equity and building global awareness

At New College, we aim to promote equity and foster global awareness in all our students, faculty, and staff. We understand the value of learning outside the classroom and are proud to reflect this through our unique academic programs. We're also the home of many international programs at U of T, have an amazing cafeteria, and support many student groups and clubs. Whatever your niche, you can find your place with us.
New College at a Glance
---
Founded in 1962, New College is one of the youngest colleges in the Faculty of Arts & Science.​
It is also the largest with over 6,000 registered students​
880 students living in 3 residence buildings​
Approximately 27,000 alumni​
Home to the D.G. Ivey Library, the New College Writing Centre, the Audrey Taylor Dining Hall and the William Doo Auditorium ​
Emphasis on equity and social justice throughout the College and it's academic programs ​
Focused on creating learning environments, opportunities and spaces that cultivate global perspectives and engagement​
What New College Offers
---
Remember, your college is your main source of support while at U of T. At New College, you will have access to:
Academic advising
First-year support
Writing programs
Library services
Math & science support
Student governance
And more!
You can learn more about the college system in this video:
No matter which college you choose, you always have access to all the university-wide services resources here at the University of Toronto.