Biography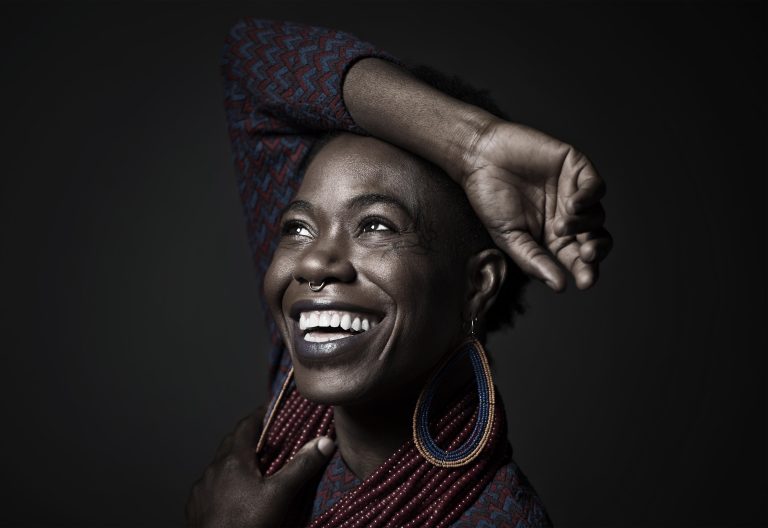 d'bi.young anitafrika is an African-Jamaican-Tkarontonian dubpoet, theatre interventionist, and decolonial researcher who is committed to embodying arts-practices that ritualize acts-of-transformation from violence inflicted upon the people and the planet. The multi-award-winning Canadian Poet of Honor, author of twelve plays, seven albums, and four collections of poetry was presented last year with the Rosemary Sadlier Freedom plaque and recognized as a Global Leader in Theatre and Performance, by Arts Council England.
Most recently, d'bi.young worked as Pedagogy Curriculum Designer & Faculty at the new Soulpepper Theatre Academy, and as Theatre Interventionist in the UN's Global Initiatives Fellowship. After receiving their Masters from the University of London, d'bi.young was awarded a PhD Dean's Scholarship by London South Bank University—where they hold a post as Theatre Lecturer—and is now conducting research on transformation in Black womxn's theatre, and the development of the Anitafrika Method as a Black-queer-intersectional performance praxis and liberatory autoethnographic framework.
In their capacity as Artist-in-Residence at the University of Toronto, d'bi.young anitafrika will explore decolonial arts-based research practices, and their relationship to the nurturance of liberatory pedagogies amongst students, faculty, and staff at New College. To learn more about d'bi.young, visit: dbiyounganitafrika.com
Residency Project
Part One—Decolonizing Pedagogies Workshop Series
d'bi.young anitafrika's Doctoral research investigates decolonial praxis and pedagogies of transformation in theatre at the nexus of Black performance theory, Black performance methods, performance autoethnography, trauma studies, and holistic health; asking "how do Black womxn theatre makers, and other Global Majority arts practitioners, embody theatre as a medium to metabolize experiences of colonial trauma and historical oppression?" To further explore this question, d'bi.young will be conducting two series of Anitafrika Method workshops entitled Decolonizing, Devising and Transforming Self. The first set of workshops welcomes participants who identify as Black womxn and Black non-binary practitioners in theatre and performance. The second set welcomes Black and other Global Majority peoples of any gender expression, and across disciplines.
The Anitafrika Method is a practitioner-centred decolonial Black-queer-feminist framework rooted in Dub Poetry. It is further informed by Ubuntu philosophy, Black liberatory pedagogy, polyvagal theory, and the latest developments in cognitive neuroscience, and trauma theory. Residency workshops will focus on the use of the method as liberatory pedagogy to support practitioners in: a) navigating experiences of colonial-historical oppression, and b) devising new decolonial autoethnographic story-based creations that center their lives, and holistic wellbeing. Both groups will culminate in public sharings at University of Toronto's New College.
Part Two—Developing the Anitafrika Method Archive
For almost fifteen years, the Watah Theatre—fka the anitafrika dub theatre founded by d'bi.young in 2008—has been contributing to, supporting and developing the legacy of Black theatre in Canada by cultivating and sharing a unique African-Caribbean-Canadian theatre aesthetic, informed by the radical performance tradition of Jamaica's Dub Poetry. The Watah Theatre has a celebrated legacy as a decolonial space of growth and development for many of Tkaronto's leading arts practitioners, who studied the Anitafrika Method (fka the Sorplusi Method) with d'bi.young. Over the years, the theatre has amassed an invaluable archive of plays, books, pamphlets, and multimedia artefacts published by Spolrusie—a small press founded by d'bi.young to provide publishing opportunities to Watah practitioners. These literatures document and contribute to Canada's cultural landscape. d'bi.young will curate a publicly accessible archive as part of their residency, to ensure that arts practitioners, researchers, students and members of the general public are able to learn the hxstory, engage with the material, and be inspired by the works of the Watah Theatre alumni.