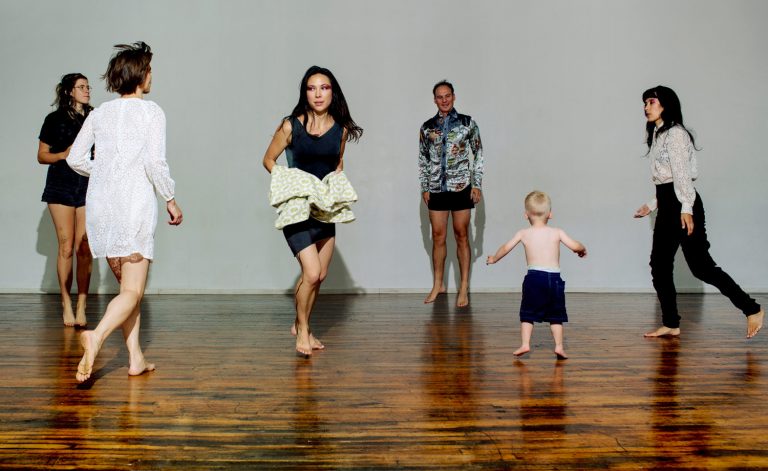 Biography
Emily Johnson is an artist who makes body-based work. She is a Bessie Award-winning choreographer, Guggenheim and United States Artists Fellow, and recipient of the Doris Duke Artist Award. Since 1998, she has created work that considers the experience of sensing and seeing performance. Her dances function as portals and care processions, they engage "audienceship" within and through space, time, and environment, interacting with a place's architecture, peoples, history, and role in building futures. Johnson is trying to make a world where performance is part of life; where performance is an integral part of our connection to each other, our environment, our stories, our past, present, and future.
Johnson's choreography and gatherings have been presented across the United States and Australia. Recently she choreographed the Santa Fe Opera production of Doctor Atomic, directed by Peter Sellars. Her large-scale project, "Then a Cunning Voice and A Night We Spend Gazing at Stars," was an all-night outdoor performance gathering taking place amongst eighty-four community-hand-made quilts. It premiered in Lenapehoking (NYC) in 2017, and was presented in Zhigaagoong (Chicago) in 2019. Her new work in development, Being Future Being, considers future creation stories and present joy.
Residency Project
Johnson will be developing a project for New College that is part of the framework of her overarching project Being Future Being. This project examines the way the stories we tell ourselves about how we came to be set the potentials for who we will become.
A multi-scalar performance gathering featuring Johnson, a cast of more-than-human creatures and processes formed with Body of Knowledge and Body of Scholarship collaborators supporting Architecture of the Overflow – a potential non-material structure for community self-determined action, activated from the performance forward. Being Future Beings seeks to (re)build visions of the forces that brought this world into being. In doing so, it ushers into focus new futures with the potential to reshape the way to relate to ourselves, and to the human and more-than-human cohabitants of our worlds.