A&S college teams unite for podium finish at Canadian Dragon Boat Championships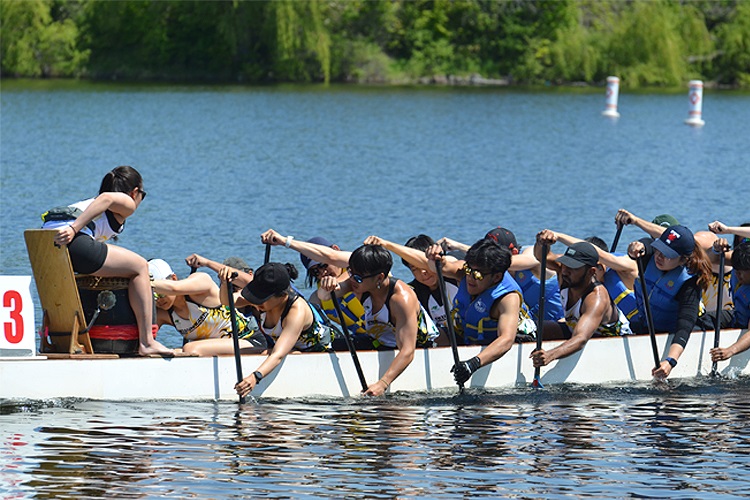 Image: The New Dragons competing in the Milton Dragon Boat Festival this past spring. Photo by Timothy Mack. 
For students looking for a novel way to get fit and make friends, U of T's dragon boat teams may be the answer. Fresh off their podium finish at the Canadian Dragon Boat Championships, where they took home gold and bronze in the under-24 (U24) open and women's divisions, the New Dragons and University College Dragon Boat Club (UCDBC) are recruiting new members. The teams will be heading to Italy in 2024 to compete together at the Club Crew World Championships.
The two college-affiliated teams joined forces after the pandemic as a way to increase membership. The teams now train and compete together under the New Dragons Racing Club (NDRC), a competitive club co-founded and co-coached by U of T alum and former New Dragons member Benjamin Choi.
Choi's dragon boat journey began during his first year as a graduate student in the Faculty of Applied Science & Engineering, when a fellow gymgoer invited him to join the New Dragons. "After I joined the practices, I became hooked," he recalls. "The people were really fun, and I started to make a lot of new friends."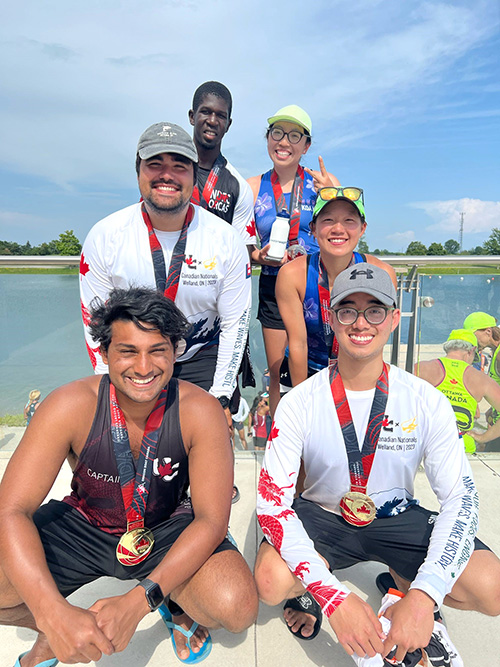 Before joining, Choi was only vaguely familiar with dragon boat racing. The sport originated in China more than 2,000 years ago, when villagers would participate in ritualized dragon boat races as a way to ward off misfortune and encourage favourable harvest conditions. Many of the sport's ancient traditions, such as decorating the boats with ornate dragon heads and tails and summoning the spirit of the dragon to the water before races, are still practiced today.
The boats are powered by up to 20 paddlers who paddle in unison, requiring exceptional physical strength and coordination. Despite the physical challenge involved, students without any previous paddling experience are encouraged to join.
"You do not need experience at all," says third-year Innis College member Natalie Duarte, co-captain of the New Dragons during the 2022-23 season. "Even if you don't start off with that much general fitness, if you have the commitment and the mindset to go for what you want, you will surpass your own expectations."